RECOVERY

unofficial website

ReCurve #1 article
Curve formed by vocalist Toni Halliday and bassist Dean Garcia are an extraordinary success story.
Each of Curve's ep's "Blindfold". "Frozen", "Cherry", "Fait Accompli" & "HorrorHead" has reached the top of the British independent Charts, the last four breaking into the national top 40..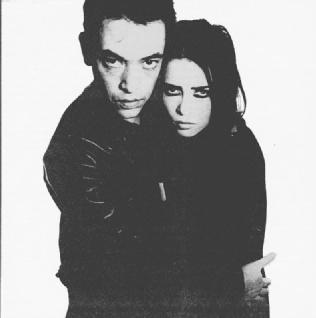 The first of them, Blindfold was, to date, hailed as one of the singles of the year (six weeks) prior to its official release, March 1991 (Curve having sent white labels to selected members of the press).
Blindfold, the critics agreed, was both brilliantly contemporary and startlingly new, managing in it's four tracks to weld white noise to jet-black dance beats, sculpt fiercely sensuous melodies from walls of feedback and most memorably , on it's opener Ten Little Girls, cut Toni's bittersweet vocal with a snapping rap attack courtesy of JC001. Perhaps because of this, Ten Little Girls was singled out and variously described as a "biker torch song" and "supersonic sex-powered pop"
Each of Curve's three subsequent ep's has seen crits creaming in their collective jeans and, in eagerness to pay homage to the group, occasionally producing some of the most absurdly, flamboyant prose ever to reach print. "Manic, cabalistic, psychotic" frothed one excited hack. "Constellations of ravens" exulted another, somewhat obscurely.
In interviews Toni Halliday has bemused them all, either charming them or cutting them dead with viscous one-liners. At time you'll find her giggling that she thinks she looks like Joey Ramone, elsewhere she'll state that she wants to vomit on the world. Either way, she intrigued critics and fan's alike. Toni seems to sum up what Curve are about, though what Curve /are/ about no-one dares specify.
What's certain is that while Curve's popular has something to do with Toni;s looks and attitude, their music, their sound has everything to do with the fact that neither she nor her songwriting partner Dean Garcia are spotty 19-year-olds fresh from trashing around in a garage.
Curve have a wealth of experience behind them. A lot of it bad,
Toni Halliday, now 27-years-old, was born in Fulham, West London. Between the ages of 4 and 8 she cruised the Mediterranean with her father, mother and sister. Her father was a hippy crook who supported his family by ransacking yachts of the rich and famous. "we'd dock in somewhere" remembers Toni "and my dad would choose the flashiest yacht in port. Then he'd take the owners to the bar, get them drunk and go back and raid their yacht. We'd be gone before they had time to get a hangover".
Eventually Toni's father dumped his family in Greece, declaring to his wife in tones Toni still remembers as bizarrely matter-of-fact that he no longer loved her. Mother and daughters returned to England moving from London to Sunderland in the industrially-depressed North East. Toni has not seen her father since.
"I think he's in jail in Spain". she says.
By the age of 16 Toni had already been in various bands an had been interviewed on regional TV where she had expressed a passion for Annie Lennox, singer with the then immensely unfashionable Tourists later to become the Eurhythmics. The programme was seen by Lennox's partner, Dave Stewart who was so impressed by the girl's forthrightness (and presumably by the discovery that someone out there liked his records) he contacted her. After a succession of meetings and letters, he persuaded her to move to London and get a band together.
Moving there in 1983 with virtually no money, Toni was to find that when the chips were down she, like her father, could be alarmingly resourceful. Within weeks she found herself a flat, friends, a band called The Uncles and a recording deal with MCA. The Uncles released one single, "What's the use in Pretending". then split, leaving Toni penniless but with a powerful sense of her own potential. recently a close friend of Toni's disclosed to a journalist that "Toni always felt special......... different".
In 1984 Dave Stewart introduced Toni to Dean Garcia, born in London in 1958, the illegitimate son of Hawaiian American GI and Irish Catholic mother, was then spending a good deal of time hanging out in The Depot, a notorious rehearsal studio situated in the sleaziest of all London's red light areas, Kings Cross.
"People were always fucking in the alleys outside" says Dean. Dean who had until this point been a session musician (playing on amongst other things, the Eurhythmics "Touch" and "Be Yourself Tonight") was intent on starting his own group. Falling for the way Toni looked and sounded, he recruited her and two others, Olle Romo and Julie Fletcher, to form State of PLay, a funk-pop band described at the time as"abominable" and since by Dean as "atrocious".
State of PLay duly signed to Virgin Records and spent, according to Dean, "one druggy, horrific year" losing the company more money than any of Richard Branson's ill-advised adventures in hot air balloons. Predictably State of Play split, leaving the members with a #100,000 debt and a mania for litigation that saw Toni successfully suing Dean and Dean unsuccessfully countersuing Toni. The two inevitably parted company and saw nothing of one another for a full four years. During this time Dean married Julie Fletcher and fled to Spain and Toni, now signed to Curve's present British record company, Anxious, released one rather pedestrian solo album, "Hearts & Handshakes". By Christmas 1989, Dean had returned from Spain and was amazed to discover that Toni had been attempting to contact him. When Dean had determines to his satisfaction that he would be meeting Toni and not Toni and her lawyer the two of them got together and set about disinfecting old wounds with Jack Daniels. In the drunken euphoria of reunion, t
Both Toni and Dean agreed that State of Play's main problem had been the big budget, the sheer surfeit of time and money. When they came to make Blindfold they wrote and recorded each of it's tracks in a single day, the whole thing costing less than #300. Friends remarked that Blindfold's songs were the best they'd written. Nothing however could have prepared Toni and Dean for the critical furore that would greet the single.
From then on in things have moved with bewildering speed. Between Blindfold and the Frozen ep, a mini-tour was set up, Curve were still minus a guitarist and a drummer (the guitar on Blindfold had been shared by Dean and Alan Moulder - Toni's longtime boyfriend,. and also the engineer and producer of Ride, My Bloody Valentine, The Jesus and Mary Chain and, of course Curve). Dean immediately contacted Steve Monti, a gregarious North Londoner who Dean remembered from his days at The Depot. Toni meanwhile placed an ad in Melody Makers classified columns and the first two respondents, Alex Mitchell and Debbie Smith, proved to be perfect.
22-year-old Alex, an educated drifter then squatting in London's East End and described by Toni as "a natural space baby", was so surprised to be chosen by a group he'd spent a month reading about he kept having to ask Dean and Toni if they were sure.
Debbie Smith, also 22, had been touring Scandinavia with her hardcore lesbian band. Like Alex, she was picked as much for her uncompromising attitude as her musicianship. On stage Debbie still promotes Gay Rights, often appearing in a T-shirt emblazoned with the legend "Queer".
curve-s mini-tour was a sell-out and "Frozen", released in May, went Top Thirty, proving Curve to be what the press had claimed they are- Britain's most accessible independent band. Another tour followed (also selling out) then, in November, the "Cherry" ep which easily outsold their two previous releases.
Curve ended 1991 with a hugely successful date at London's Astoria and began 1992 by scooping the Brightest Hope awards in both the Melody Maker and NME. Toni herself was voted Best Female Artist and No.1 Object of Desire.
On March the 9th Curve released their debut album "Doppelganger", written recorded and mixed in a mere three months.
As someone else once said, "Curve are theoretical perfection come true".
You better believe it.